25.05.2018 · Fíggjarmálaráðið
Røða hjá Kristinu Háfoss, landsstyriskvinnu á ráðstevnuni Responsible Tourism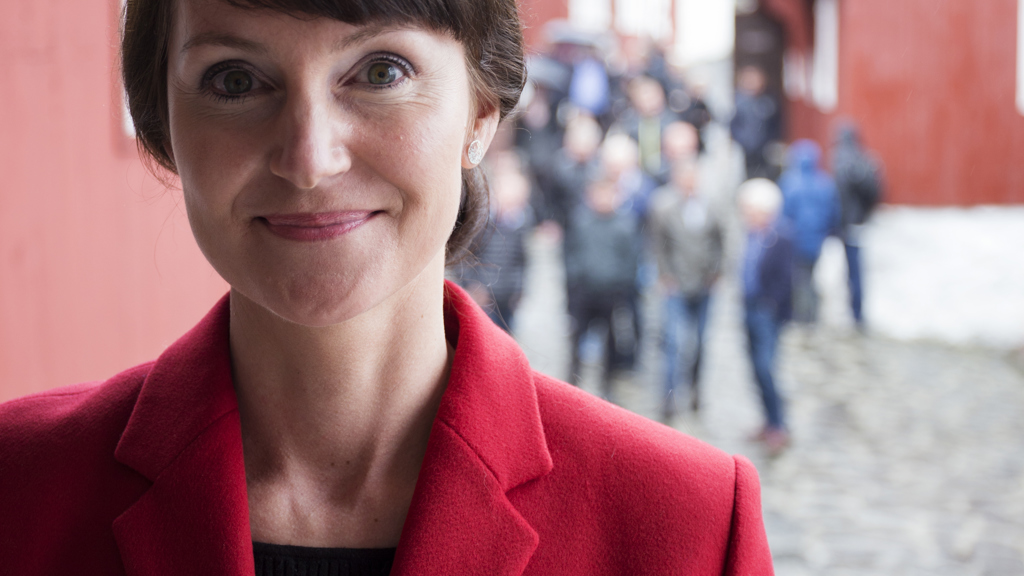 Welcome
Unspoiled. Untamed. Untouched. Those are among the words, that we use to describe our unbelievable and unexplored country, with so many untold stories.
And we are proud of it. But those words. Unspoiled. Untouched. Unbelievable. Will only continue to be true, if we ensure, that the growth of our tourism industry is responsible now and in the furture.
Therefore I – and the Government of the Faroe Islands – want to send our thanks to Fróðskaparsetrið, the West Nordic Studies program and all the partners, for arranging this conference, and highlighting responsible tourism.
The basic principles in sustainable growth, as laid out in the Bruntland report from 1987, are still a strong starting point for a discussion on responsible tourism.
To be responsible - and therefore sustainable - the tourism industry must not damage the environment.
Tourism must be to the benefit of the society, AND it must make good sense economically.
MICE
I would like to express my special thanks and a warm welcome to our foreign guests, for taking their time to come here. Thanks for sharing your insights with us. And also, thank you for taking part in one of the top segments in the tourism industry - the MICE tourism, which covers meetings, incentives, conferences and exhibitions.
The number of academic conferences in the Faroe Islands is increasing, and we are very honored and pleased that so many recognized international specialists choose our country to get together.
The tourism in the Faroes Islands is increasing, and it is of uttermost importance for us to develop a truly sustainable tourism industry.
Tourism, which truly respects and adapt to the nature, to the culture and to the local population - is of course the only way to ensure an industry, that can have a positive impact in the long-run.
Meetings and conferences are very important for us to reach this goal. Because, in order to make successful conferences you need to excel in all of the parts that make up for a good travel experience:
We need to have the very best venues, reliable and comfortable transport, and the best possible accommodation in different price ranges.
Furthermore, we need to have excellent choices of food and exiting tours and most importantly, we must have the ability to adapt quickly and to steer safely, whenever unexpected things happen.
Land of Maybe
Faroe Islands are known as the Land of Maybe. This is why, when you ask a Faroese about the future and planning, "maybe" is a very likely reply.
This, is not because people in the Faroe Islands are uncertain or because we suffer from anxiety to make decisions. Rather it is because it is so deeply rooted in our nature, that many things are out of our control, and that we must be ready to cope with unforeseen challenges. Extreme weather and unpredictable natural resources have made it necessary for us to become masters of adaptation, and not least to take an active, but very tolerant, attitude to changing circumstances.
This may be our secret weapon to ensure that we - as a nation - will succeed in managing a growing tourism, while preserving our nature and our traditional way of life.
A growing industry
I guess you will hear all the facts and statistics you will need at this conference. I will just point out, that we are very proud, that our tourism industry has really taken off, and is growing fast. Last year there were about 175.000 hotel nights spent in the Faroes, and the tourism industry is now counting for over 600 jobs, measured as full time equivalent – the number of people somehow being involved in the industry is considerably higher. The hotel capacity is going to double in the next few years, to accommodate the growing number of tourists, and it is therefore urgent to ensure that the growth is sustainable.
Upsides
The fast growth rate brings both opportunities and challenges. Among the upsides are the many new offers to tourists and locals alike, new and exciting cafés and restaurants, much bigger supply of Faroese design and artist products, and many new ways to explore the country, as well as international marketing of the Faroe Islands. So far, the tourism may have had most impact on the tourist hot spots and in the capital region, but especially the regions challenged with lower employment and a declining population have great potential to gain from the tourism industry.
Challenges
The first and foremost challenge for us, is to keep the Faroe Islands unspoiled, while the industry is growing, and that goes both for the nature and for our cuture, and the society as a whole. We must find ways to structure the tourism, so that it is well organized, but still with the feeling of a land unexplored.
Appropriate taxation for common goods
Another challenge of increasing importance is to make sure that a fair share of the income from the tourism is actually coming into the Faroes and not only collected by foreign operators. For some segments, for instance all-inclusive cruise tourism, it is difficult to charge the individual travelers, and it can be appropriate in the future to introduce taxes to pay for the use of the Faroese public infrastructure and for our natural common goods.
Embracing the sharing economy
Another, somewhat controversial way to support a responsible tourism may be to embrace the sharing economy. These years Airbnb and the whole concept of renting out spare space to tourists is highly debated, as there is also a lack of houses for people to rent on a permanent basis.
This can be a real problem, and we have seen abroad, that in some places, restrictions may be appropriate.
However, if we manage a responsible tourism, we think, that it should be possible to benefit from the tourists renting from private, without sacrificing space, which would otherwise be open for long-term rental. In the Faroe Islands we have chosen, not to limit or to punish people who wish to take part in the tourism industry. Instead, we have recently introduced tax-rebates for those leasing out long term. In addition, our tax authorities are planning to get direct reports from Airbnb on the leases in Faroe Islands, to make sure taxes are correctly paid.
In the same spirit, of allowing entrepreneurship to flourish, the concept of Heimablídni was introduced, eight years ago. Heimablídni– directly translated "Home hospitality", is a concept where tourists can dine in private homes, and making it possible for anyone with a home and a kitchen, to have a home-restaurant. The concept is based on common sense instead of rigid regulations. The guest are expected to be able to judge for themselves if the standard of the kitchen and the chef is convincing – which of course it is. When you invite people to dine in your own home, you will do you very best to ensure the very best quality and a good experience.
When done responsibly, the sharing economy has a great potential to bring the benefits of tourism into any corner of the country. The entry barrier to the industry is as low as possible, and the tourists can become true guests, and not an annoyance.
Endi
There is no doubt that tourism is of huge importance for our country, and that it will be a more and more important part of our society and to our economy in the future. Tourism will make is possible to live and have meaningful jobs in all of the Faroe Islands – and will make it even more great to live here – IF we ensure, that the development of our tourism is responsible and sustainable.
I hope you will have two days of fruitful debates and discussions, and that this conference will contribute to the responsible growth in tourism in our region and beyond.
And I hope, that you will find the time to see a bit of our unspoiled, untamed and unbelievable country.
Thank you.